7 Middle Eastern dishes you should definitely make while in quarantine
by Sonia Jamil
food
Wherever you are in the world, I hope you are safe and sound!
These are times we need to nourish our stomachs, our mind, our hearts and our communities. People are utilizing quarantine to take up new hobbies, be it cooking, art or watching the new season of a Money Heist.
When it comes to food Middle Eastern cuisine is one of the ethnic and rapidly growing cuisines around the world. You don't necessarily have to visit a traditional Arabic or Turkish restaurant to try out their cuisines. Since you have all the time in the world and zero excuses, here are 7 convenient Middle Eastern meals that you could definitely put together using ingredients that you may have in your pantry right now.
1. LUQAIMAT
Crunchy, airy, deep-fried dough balls dipped in date syrup, sugar syrup or honey. They are served as desserts in countries like Turkey, Israel and Arab countries. There are many variations to Luqaimat based on different cultures. They are traditionally included in times of religious observances; for example in the Levant by Muslims at Ramadan, Jews at Hanukkah, and Christians at Epiphany alike. Try the scrumptious recipe by Munaty Cooking.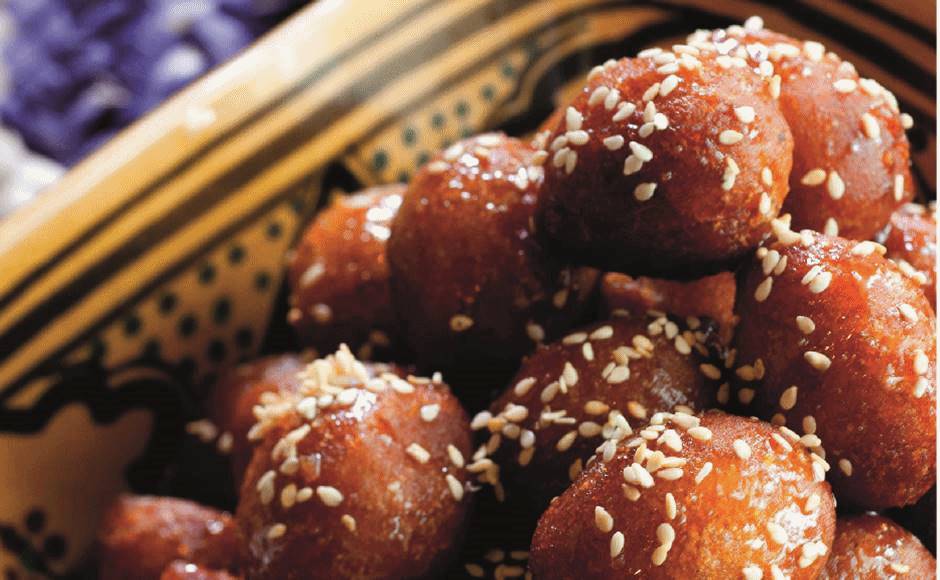 2. Falafel
Falafel is a well-known Middle Eastern dish which has originated from Egypt. They are deep-fried balls made from chickpeas, fava beans or both. They are usually wrapped in flatbread over a bed of salad and sauce. However, they can be snacked on their own. Falafels are an amazing vegetarian and vegan snack. Here is a classic homemade falafel recipe by the Spruce Eats.
3. Shakshouka
Shakshouka literally means a 'haphazard' mixture in Arabic. It is a dish of eggs in a sauce of tomatoes, olive oil, peppers, onion and garlic, and commonly spiced with cumin, paprika, cayenne pepper and nutmeg. They are common throughout Yemen, Somalia, Palestine, Lebanon, Egypt, Syria and Morocco. This healthy, vegetarian gluten-free recipe by Tori Avey is simply delicious.
4. Shawarma

Ever passed by a shawarma stall and devoured the smell of cooked meat! Shawarma is one of the most popular street foods in the Arab world and this popularity has definitely made its way to all parts of the world. The cuisine consists of meat cut into thin slices, stacked in a cone-like shape, and roasted on a slowly-turning vertical rotisserie. Originally made of lamb or mutton, today's shawarma may also be chicken, turkey, beef, or veal. Try this delicious chicken shawarma recipe by RecipeTin Eats.
5. Kunafa with cream
Kunafa is an ethnic dessert with thin noodle-like pastry or alternatively with kunafa dough, soaked in sugar syrup and normally layered with cheese. It is popular in the Arab world, particularly the Levant and Egypt, and especially among Palestinians. In addition, variants are found in Turkey, Greece, and the Balkans. This bread kunafa recipe by Munaty Cooking is to die for!
6. Manakish
The Arab version of pizza, is originally a popular Lebanese recipe consisting of dough topped with thyme, cheese, or ground meat. You can make variations of Manakish; topped with meat, cheese, zaatar and even nutella. If you are craving some, try this flavoursome recipe by Simply Lebanese.
7. Qatayef
Qatayef is a toothsome Ramadan treat. These are Arabic pancakes filled with cream and nuts. Now you may find qatayef filled with nutella as well. Qatayef was traditionally prepared by street vendors as well as households in the Levant and Egypt. Make sure to prepare the mouth-watering dessert by Cleobuttera.
---
14 April 2020
Share this on
Related Blogs