11 Poses for Better Instagram Photos
by Sonia Jamil
technology
Posing for an Instagram picture is unnatural and awkward, unless it's VOGUE!
You want to look 'Photogenic' but don't know what to do with your face, hands or body? Here are 11 easy tricks to get the perfect Instagram worthy snapshot.
1. The 'One foot forward' pose
By planting one foot forward, your body gains a natural curve. Try to step forward on the balls of your foot; on your tiptoes. This elongates the legs and makes you look taller and leaner.
2. Take a seat
Sitting is always comfortable. So, use the stairs, a curb, railing, a bench or simply the ground. You can get great shots and feel comfy at the same time.
3. Add some movement
Don't be afraid to move while taking pictures. It's tricky to grab the perfect shot during movement but you could end up with pretty good candids or even hilarious outtakes. Natural movement can make the picture very eye-catching.
4. Glance over your shoulder
Take a look back. Walk a few steps further and glance back over your shoulder when your photographer is ready to 'snap'.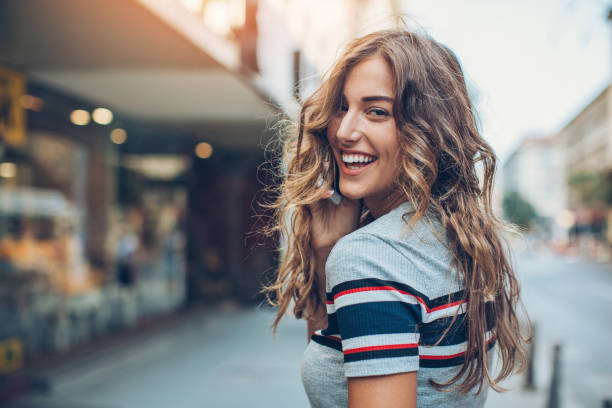 5. Take a few steps back
If you want to capture the beautiful landscape with you in it, have whoever is taking your photo step way back. This will let your surroundings take center stage.
6. The 'looking away' pose
If you are having a good hair day, this is a perfect way of changing up things. This pose is fit for those no-makeup days and provides a visually appealing picture as well.
7. Don't miss out on the Mirror Selfie
This is the easiest no-hassle way to capture your 'OOTD'. There are various compositions of mirror selfies. You can go full body or half; you can crop-off the head and just grab a shot of the outfit.
8. What should I do with my hands?
Place your hands on your hips - or just above your hips. You could also place them in your pockets if you'd like. To add angles to your photo, run your hands through your hair.
9. Go for some props
Grab a prop. A coffee, a book, a purse, a camera, an umbrella or balloons; anything would do. This will make the shot more natural and there wouldn't be a sense of awkwardness.
10. The Sideways Glance
If you have a good left or right profile this is your go-to pose. It gives you those 'Candid vibes'. Add in a cool hair-flip if you'd like.
11. Look at your Shoes
Whenever in doubt, go for a downward glance. This pose will never ever fail you.Â
---
27 April 2020
Share this on
Related Blogs